2019
October 5 & 6 - Nebraska City Civil War Reenactment
The event will be held over the first weekend of October.  Please see below for a full schedule.  Sponsors of the event are Wildwood Historic Center and Mayhew Cabin and the event is funded by the Nelson and Steinhart Family Foundations. Many thanks for their support!
Schedule for October 5th (Saturday) and 6th (Sunday)
Battles at 10 a.m. & 2 p.m. on Saturday and 1 p.m. on Sunday (located in haying field south of 4th Corso - please see arrow on the map below).
Campsites open to the public in Wildwood Park (near main drive) at 9 a.m. both days.
Historic Displays near Wildwood House both days.
Roundhouse Band Music Program & Reception at G.A.R. Hall (910 1st Corso) on Saturday at 4 p.m.
Civil War Cannon Night Firing (haying field south of 4th Corso) at 8:30 p.m.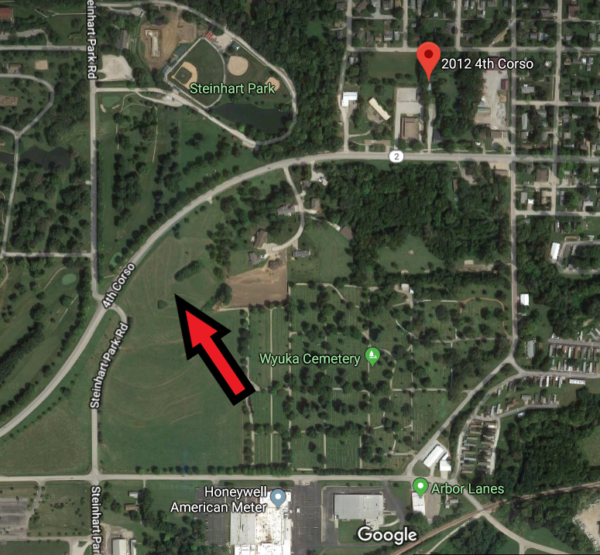 June 22- Juneteenth Celebration
(Due to museum closure, this event will be held at the Civil War Veterans Museum (GAR Hall) located at 910 1st Corso in Nebraska City)
The Mayhew Cabin will host its annual Juneteenth Celebration on Saturday, June 22nd, from 10 a.m. to 3 p.m. At 11 a.m., Dave Marsh will present his Humanities Nebraska program "Music of the Civil War" and perform various songs from that time period. In addition, the Christ Temple Praise Team will perform a music program at 1 p.m. Also, there will be a Civil War living history demonstration throughout the day. Please contact the museum at (402) 873-3115 or email: mayhewcabin@hotmail.com for more information.
February 7 - Black History Month
The Mayhew Cabin co-sponsored the program Forever Free: Walk into History on Thursday, February 7th, at 11 a.m. with Peru State College student organizations, Phi Alpha Theta and Black Student Union. The program took place in the CATS conference room on the campus of Peru State College. Mr. Barry Jurgensen discussed his Forever Free program and the two walks he completed in 2016 and 2017, which included following the path of two girls who escaped from slavery in the late 1850s from Nebraska. For more information, please call Bill Hayes at (402) 873-3115 or email mayhewcabin@hotmail.com.