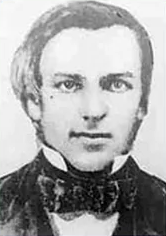 John Henri Kagi was born in Bristol, Ohio on March 15, 1835.  Having lost his mother at the age of three, he lived with relatives for much of his young life. He received a basic education in the local schools and then taught in Trumbull County for a year or two. Kagi then served as a teacher in Virginia in the winter of 1854-55, but was forced to resign his post because of his strong beliefs.  His cousin Joel Kagy explained in a letter to another family member that it was because "he tried to put bad feelings in the darkies around here towards their Masters, and that if My Father had not talked to John J. Allen and the other men who had Slaves, they would have arrested him, but through Father's influence they let him go back to Ohio with a promise never to come back here again." After a brief visit to his hometown in Ohio, John traveled to Nebraska via Cincinnati & St. Louis.
John lived with his sister and brother-in-law in their cabin near what would become Nebraska City for a little over a year and spent his time teaching Phonography, an early form of Phonetics and earning a law degree.  Kagi moved to Kansas Territory in 1856.  It was during this year that he became acquainted with the famous abolitionist, John Brown.  In Kansas, John served as a newspaper correspondent, writing for the New York Tribune and the National Era.  He also enlisted in Company B 2nd Reg't, Kansas Volunteer Army and became good friends with Aaron Dwight Stevens, a follower of John Brown.  Kagi found a kindred spirit in John Brown and eventually became the Secretary of War in Brown's "Provisional Government" and one of John Brown's most trusted advisors.  For the abolitionist cause, John endures beatings, a gunshot wound, harassment, poverty, and several imprisonments.
The Kagy families' views on slavery and John's newly-formed association with John Brown is likely the reason that his sister's cabin was used as a stop on the Underground Railroad. The Mayhews were never punished by authorities for helping the slaves, but Kagy was nearly arrested while visiting his sister in the winter of 1859 during his last trip through Nebraska City with fugitive slaves. He wrote to a friend to tell him of the incident after they were safe across the border into Iowa.
"We are here with the fugitives. After I joined J.B. we started north. The posse thought we were going to attack them in their quarters, and took to the crossing of Spring Creek & hitched horses. We came on and they left, and took up another position, and still another. Finally, finding that we still came on in utter disregard of them, they broke and ran for MO. We caught five of them and took from them their horses and revolvers and kept the men until the next day. They thought there had been advantages on both sides – we getting some good horses and arms, and they some valuable experience. The N. Dept Marshall was I.N.O.P. (&c) Wood one of our men chased six of them 8 m. towards Atchinson. The Dept Marshal for S. Nebraska with a small posse attempted to take me at Neb. City, when alone at my sisters, but couldn't do it. While he was raising a larger posse, I escaped."
Exactly how many slaves passed through the Mayhew's homestead is unknown. Edward Mayhew, the eldest son of Allen and Barbara, wrote "…there was a negro woman stayed at the house one night on her way North, she and the ones instrumental in bringing her there had been directed by John Kagy. At another time Kagy brought fourteen negroes there for breakfast one morning." Edward claims to have not known of any "negroes" having stayed in the cave, but the general air of secrecy and his age at the time (he was only ten in 1859) may simply be the reason for his lack of direct memory on that specific account.  However, his first-hand recollection of Kagi bringing escaping slaves to the cabin coincides with the events reported by other individuals as well.
What Edward remembered as 14 was actually 12 escaping slaves that had been freed by John Brown, John Kagi, and several others from three slave owners in Missouri in December of 1858.  Brown and Kagi took the escaping slaves all the way to Canada to freedom, reaching their destination in March of 1859.  The men continued their abolitionist activities and later that year, Kagi accompanied John Brown and several of Brown's other loyal followers to carry out the raid of the arsenal at Harper's Ferry, aimed at obtaining weapons for a slave uprising. Kagi was shot to death during the raid on October 17, 1859, at the young age of 24.  John Brown's infamous raid on Harper's Ferry is one of the sparks that ignited the Civil War.