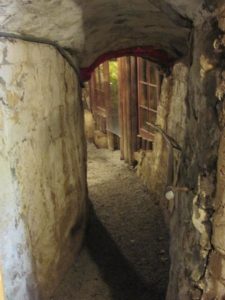 Edward Bartling opened the cabin site in 1938 as a tourist location, and he recreated the famous John Brown's Cave with which Mayhew Cabin has since been associated.
Today, you can walk through the furnished cabin to see how the Mayhew's lived and then travel down to the cellar and walk through the tunnel to better understand what the remarkable flight from slavery would have entailed.
In 2013, an area near the exit of the tunnel caved in due to water damage. Currently, visitors are still able to go down into the cellar area, but because of the significant damage/collapse caused by water penetration, the last leg of the winding tunnel has been closed to visitors. The Mayhew Cabin Foundation is currently fundraising to repair the tunnel exit and the surrounding area. You can be a part of the restoration process. Please see the "Donate" button on our Home page and help us restore the tunnel.