October 19 – Fundraiser Night
The museum hosted its second annual fundraiser event on Saturday, October 19 from 4:30 to 6:30. The program included presentations from Calvin Phillips and the Arlington High School students. In addition, the Mayhew Cabin presented its second annual Mayhew Freedom Award to Anna Webster with efforts as a tour guide and developing the gift shop at the site.
September 21 & 22 – Flea Market
The Mayhew Cabin hosted its fall flea market over AppleJack weekend. It was a huge success with over 1,400 people in attendance and over $1,000 in donations with all proceeds benefiting the museum's non-profit foundation.
June 22 – Juneteenth Celebration
The Mayhew Cabin hosted its annual Juneteenth Celebration on Saturday, June 22, from 11 a.m.-5 p.m. The event included living history programs, Civil War reenactors, and music programs. Dr. Dan Holtz of Peru State College presented his Humanities Nebraska program, "Songs & Stories of the Civil War" and Lee Williams made special first-person presentations as Abraham Lincoln to commemorate the 150th Anniversary of the Emancipation Proclamation. The NAACP-Omaha Chapter was in attendance and KETV Channel 7 news of Omaha filmed parts of the event. Visit their website to see the video that was on the 10 o'clock news or visit the Nebraska City News-Press website to see photos as well. It was a very successful event with over 140 people in attendance.
May 3
The Mayhew Cabin hosted a ribbon cutting ceremony to commemorate the restoration of the log schoolhouse. Butch Bouvier, project lead, and his crew were in attendance. Mr. Bouvier mentioned the importance of preserving the building to educate young people about our past. This event was sponsored by the Nebraska City Tourism & Commerce office.
April 27 & 28 – Flea Market
The spring outdoor Flea Market held at the Mayhew Cabin over Arbor Day weekend was a huge success. Over 1,100 people attended and many had positive comments about the event. Over $650 in donations was raised from the event with all proceeds benefiting the Mayhew Cabin Foundation.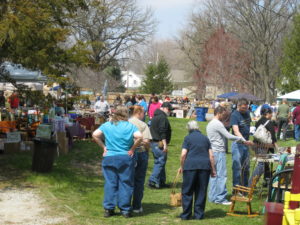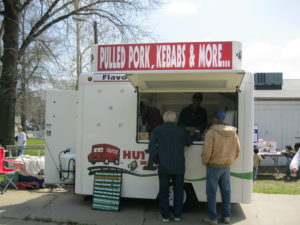 February 14 & 16 – Black History Month Programs
The Mayhew Cabin co-sponsored two programs for Black History Month. The first program took place at Peru State College on Thursday, February 14th with Mr. James Beatty, chairman of the Great Plains Black History Museum, as the speaker. Over 4o people were in attendance with the student organizations Black Student Union and Phi Alpha Theta as co-sponsors. The second program took place at the G.A.R. Hall/Civil War Museum in Nebraska City on Saturday, February 16. John Harris gave a great presentation as Frederick Douglass.
Past Events
2019
2018
2017
2016
2015
2014
2013
2012
2011
2010