October 25 – P.R.I.N.T. Paranormal Ghost Hunt Event
The museum hosted a Paranormal Ghost Hunt on Saturday, October 25th, with the Paranormal Investigative Team known as P.R.I.N.T. Over 10 people attended the class and went on a real paranormal investigation. If would like more information about the paranormal group or future paranormal classes, please call 402-416-1148 or email printghosthunters@gmail.com.
October 4 & 5 – Nebraska City Civil War Reenactment
The Mayhew Cabin helped sponsor the first large Civil War Reenactment in Nebraska City in 15 years. It was a two-day event filled with battles, programs, and displays. Several people attended the programs at the Mayhew Cabin museum and many people viewed the Civil War artifact collections of Moss Ellis and Bill Dean at the Wildwood Historic Center. At least 800 people attended the reenactment battles that were held in Wildwood Park over the weekend and several people visited with the reenactors and walked through the campsites. We would like to thank the City of Nebraska City, the Wirth Family Foundation, the Kropp Family Foundation, and OCVC for sponsoring the event.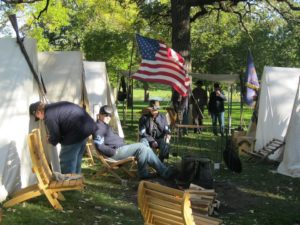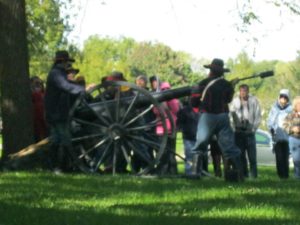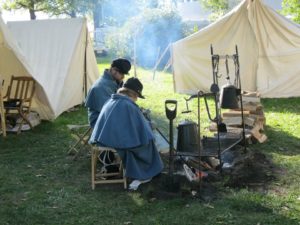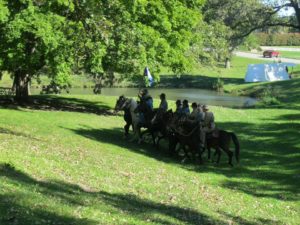 September 20 & 21 – Flea Market
The Mayhew Cabin hosted its annual Fall Flea Market during AppleJack weekend. Over 30 vendors participated in the event and several hundred people attended. Despite the rain on Saturday morning, the event was very successful. The annual event raised over $1,100 for the Mayhew Cabin Foundation.
June 21 – Juneteenth Celebration
The museum hosted its annual Juneteenth event on June 21st. There were over 90 people in attendance. The Nebraska Governor's Proclamation for Juneteenth was read throughout the day. Several people listened to Dr. Davis talk about African American Soldiers during the Civil War, sponsored by Humanities Nebraska. In addition, people got to visit with Civil War reenactors, listen to musical programs (by Calvin Phillips and Christ Temple Church Praise Team), and see living history demonstrations. And we would like to thank the Steinhart Foundation for sponsoring our annual Juneteenth Event.
April 26 & 27 – Flea Market
The Mayhew Cabin hosted its annual Spring indoor/outdoor Flea Market over Arbor Day weekend Over 35 vendors participated in the event and several hundred people attended. The annual event raised over a $1,000 with all proceeds benefiting the Mayhew Cabin Foundation. We appreciate the hard work of Cathleen Briley in coordinating this event.
February 18 – Black History Month program (Freedom Seekers Film showing)
The Mayhew Cabin co-sponsored the film showing of Freedom Seekers: Stories from the Western Underground Railroad on the campus of Peru State College (Peru, NE). The local Phi Alpha Theta and Black Student Union chapters also co-sponsored the program. There were over 25 people in attendance and a great discussion took place afterward with Gary Jenkins.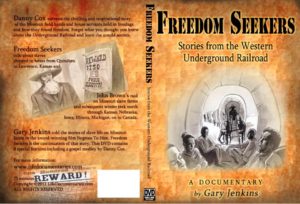 Past Events
2019
2018
2017
2016
2015
2014
2013
2012
2011
2010